Skip to Content
Rhino Linings Spray-in Bedliner
Rhino Linings at American Bedliners Custom Truck Shop
We are the exclusive truck shop in Jacksonville to install Rhino Linings Spray-In bedliners. Their bedliner is specially formulated to resist the damages from the hot and humid Florida climate and provide a lifetime of use. Rhino Liners are backed by a nation-wide lifetime warranty. You don't need to bother shopping around for other liners because Rhino Linings are the best! Rhino is the original spray-in bedliner and has continued to innovate their product over the years. They have brought nothing but top quality bedliners to the market since their inception.  We spray Rhino's most cutting edge 1:1 hybrid product using a high pressure, high heat process.  There is no better bedliner.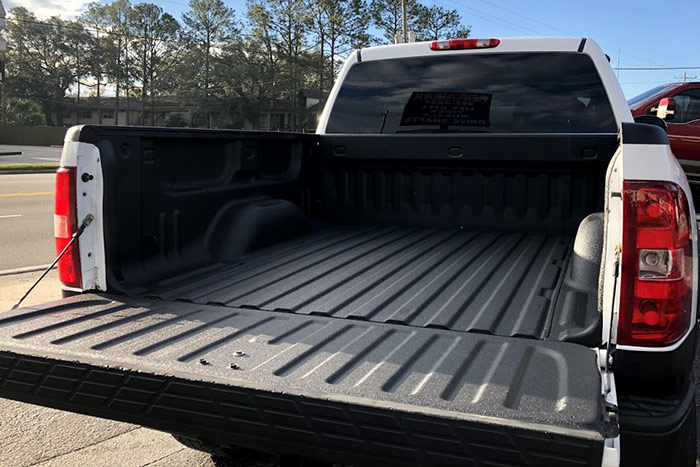 Benefits of Bedlining Your Truck
Regularly using your truck bed is sensible, but it can also be damaging. Fortunately, American Bedliners Custom Truck Shop offers a sensible way to protect your truck bed from damage. Here are some of the many ways getting a bedliner installed can save your truck:
Prevents rust and corrosion
Protects from UV damages
Maintains the value of your truck
No loss of space like drop-in bedliner
Items placed in the bed slide around less than when using a plastic drop-in liner
The application process takes us approximately half a day. Our technicians at American Bedliners Custom Truck Shop will meticulously prepare your truck bed to ensure the perfect application. Once applied, your truck is ready to roll. We do suggest you give it 24 hours to fully cure before placing heavy or sharp objects into your truck bed.
Jacksonville's Truck
Customization Experts