Skip to Content
Truck Customization Services Offered in Jacksonville, FL
American Bedliners Custom Truck Shop is a specialty shop. We only do what we are best at…truck and Jeep modifications. We choose not to do everything under the sun to all vehicles. We don't work on cars. We don't sell stereos. We don't do window tinting. This is a truck shop. That's what we do and we do it very well.
Our owner, Sam, grew up working on cars, trucks, and motorcycles with his dad. His passion for working in the garage combined with his business management experience drove him to create a place where Truck and Jeep owners can take their vehicles and feel confident that they will be taken care of by a trustworthy, respectful shop that cares about nothing more than getting the job done right and making our customers happy. American Bedliner's staff has more combined experience in our areas of expertise than any other shop in North Florida and we sell all the top brands of Truck and Jeep products.
Lifts & Leveling Kits
Our team of experienced technicians knows your truck and the different options available to achieve a massive lift or a simple clean leveled look. We offer all the top names in the industry at competitive prices.
Wheels & Tires
We sell all the most popular brands of wheels and we are highly skilled at large tire and wheel fitment, mounting, and balancing. American Bedliners Custom Truck Shop is Jacksonville's go-to shop for both on-road and off-road wheels and tires.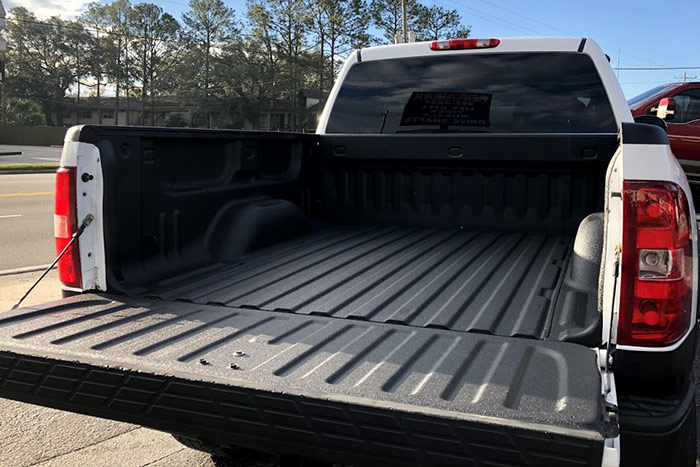 Rhino Linings Spray-In Bedliner
We are Jacksonville's exclusive Rhino Linings Spray-In Bedliner dealer. Our bedliner is specially formulated to resist wear and tear in the hot and humid Florida climate and provide a lifetime of use.  Rhino Liners are also backed by a nation-wide lifetime warranty. We have the most up to date high-pressure spray equipment and meticulously prepare each vehicle by hand prior to application in our spray booth.
Bed Covers
Bed covers offer your truck better weather protection, security and fuel savings from lower air-drag. You can count on American Bedliners Custom Truck Shop to offer the top brands and best products available. We offer professional installation, use instruction, and directions on how best to care for each new cover as well.
Truck Accessories
Our experience with truck accessories saves you time and money when looking to upgrade your Jeep or truck. We can answer all of your questions on accessories and get them installed quickly and professionally. You are not going to find a better price, so come in and let us do the work for you.
Jacksonville's Truck
Customization Experts