Skip to Content
Wheel and Tire Service from American Bedliners
We sell all the most popular brands of wheels and tires at American Bedliners Custom Truck Shop. We are highly skilled at large tire and wheel fitment, mounting, and balancing. Our expert technicians use a state-of-the-art hub mount tire machine which allows us to work with the largest tires and most expensive wheels, without risk of damage to either.
The wheel balancer we use utilizes cutting edge Virtual Plane Imaging (VPI) measurements and laser imaging to capture the profile of the wheel. This machine is also calibrated specifically for larger truck wheels and tires. Your local automobile tire shop is likely very good at car tires, but when it comes to oversized tires and large wheels, we have you covered.
Wheels
The expert technicians at American Bedliners Custom Truck Shop can show you all the different styles of wheels available to ensure that you get that specific look you want for your truck. The most common wheel type is cast aluminum. While it's a heavier build, the sturdiness makes it a good wheel option. It is also the more cost-effective type of wheel. Two-piece alloy wheels offer stunning designs and can help hold weight better for heavier vehicles. Monoblock forged wheels are the lightest and most customized of all wheel options. Forged wheels are also stronger than cast and will stand the test of time and bumps in the road better than other options. Again, we work with all the best manufacturers in the industry for any of these types of wheels. A common mistake customers make is buying wheels used or online. There is nothing wrong with used wheels, but there are limitless combinations of lug patterns, offsets, and backspacing to be aware of. These metrics determine which wheels will actually fit on which vehicle. We are happy to help you better understand what fitment options are available for your specific vehicle. Trial and error can be very costly, so come by and let us help you make the right decision the first time.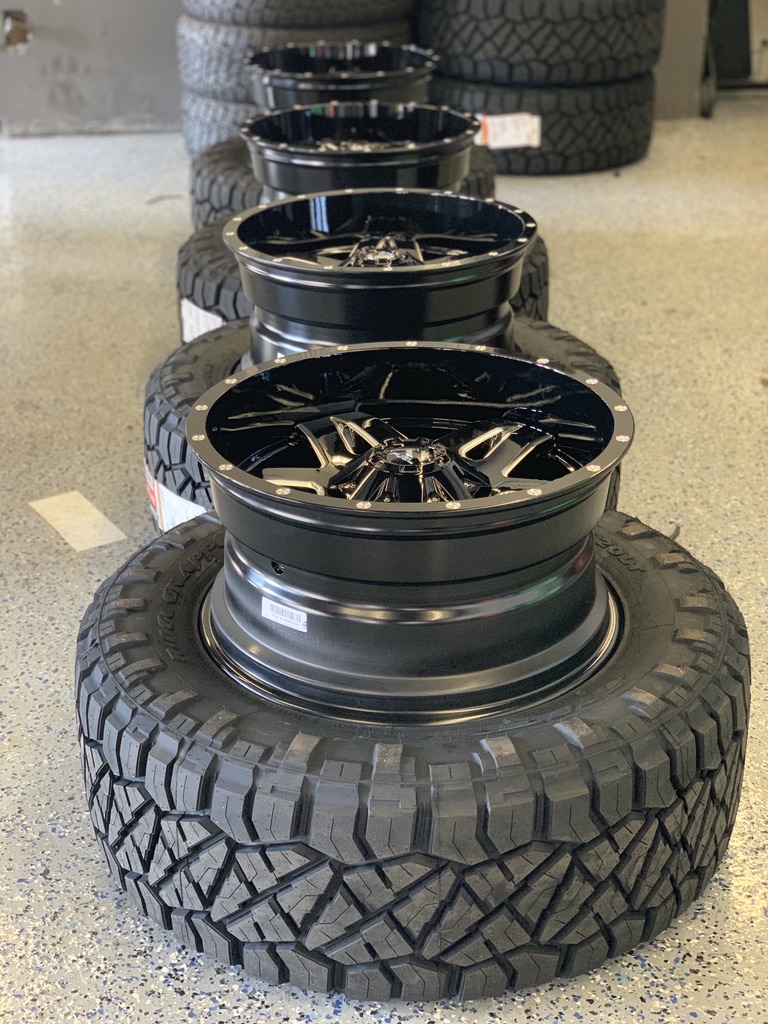 Our Wheel Manufacturers Include:
Moto Metal
Fuel
Mayhem
Hostile
American Force
Cali Offroad
Asanti Offroad
KMC/XD
ATX Offroad
American Racing
Tires
Here at American Bedliners, we can get almost any tire you can imagine. However, we have experience running many different tires ourselves and we are constantly getting direct customer feedback, so we certainly have our favorites and will recommend the best options for your particular application. From the top tier to value priced tires, we can help you select the best fit for your truck and your budget.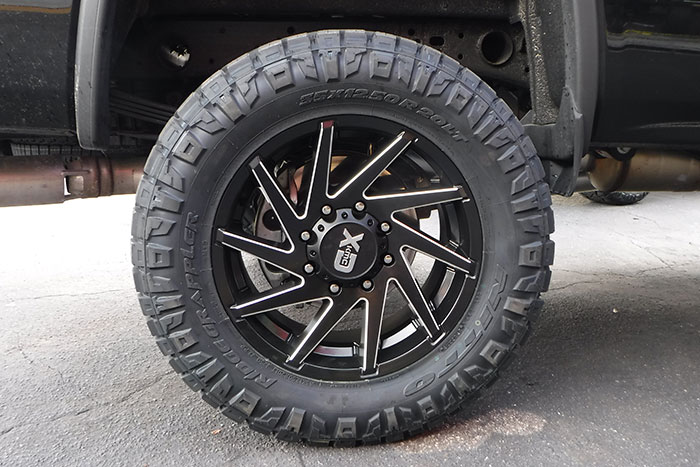 Some of Our Favorite Tire Manufacturers:
Nitto
Toyo
AMP
Nexen
Pirelli
Michelin
BF Goodrich
Cooper
Jacksonville's Truck
Customization Experts